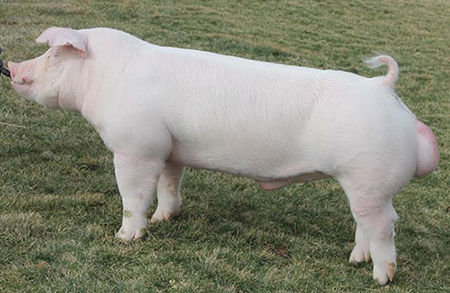 Sire:

EIN


Dam:

Direct Hit


Bred by:

Schminke


Owned with:

Upperhand Boar Stud
Thank you to Upperhand Boar Stud!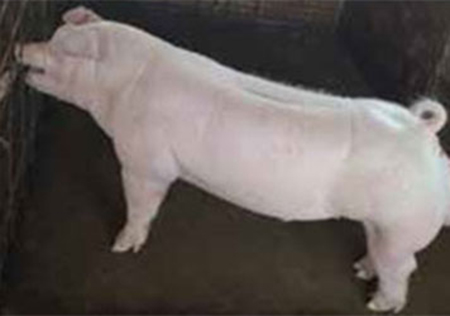 Sire:

UNO


Dam:

Big Rig x Dakota


Bred by:

Schminke


Owned with:

Purple Power
Boar Stud
EIN was a $20,000 off-the-farm purchase in spring of 2015. Thanks for Russell for letting this come to Chalmers. EIN'S skeleton, in my opinion, is as good as it gets. He has great toes, heaviness of bone, rib shape, squareness, both front and rear, and tremendous muscle. Couple all that with a giraffe neck and balance makes this guy a must use.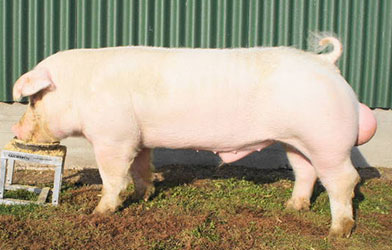 Sire:

Direct Hit


Dam:

Old School
This young Direct Hit son will compliment sows that are moderate in their build. This exciting son is great in his design and excels in his mobility. He is extra flexible with a great muscular design. Look at this young sire to generate your next Champions.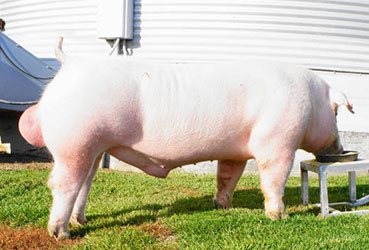 Sire:

Direct Hit


Dam:

Classic Steel
One of the great Direct Hit sons to date. Littermate brother to the dam of Snapshot was Champion Chester Barrow at San Antonio Stock Show. Snapshot is super good underneath in his width of chest floor and an impressive upper shoulder. This boar has been very popular and watch for his offspring earning championship honors.
Sire:

Just-N-Case


Dam:

Mack


Bred by:

Armstrong


Owned with:

Upperhand Genetics
Just N Time is the $7,000 Champion Boar from the 2013 SWTC that we teamed up with Upperhand to bring home. We have been looking for a boar that is an outcross for the dominating Direct Hit and Band Wagon lines and this boar is it! Just N Time is a massive hog that is attractive and has that extension that is needed to make show barrows as well as breeding stock. He is super tall fronted, level made, and square coming at you and leaves with perfect squareness from hock to ground. He is a heavy boned boar that has huge feet and is flexible off both ends having slope to his knee and hind leg that can get out and reach. Just N Time is massive on the top side of his skeleton with a great amount of shape and great curvature to his rib cage. There are many searching for that Chester boar that is massive, heavy boned, square coming and going and flexible in an extended package this boar just came Just N Time. Thanks to Platt Show Pigs for all your help in locating Just N Time.
Sire:

Just-N-Time


Dam:

Old School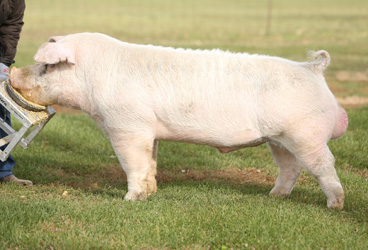 Sire:

Red Rooster


Dam:

Direct Hit
Sire:

Direct Hit


Dam:

Steel Force


Bred by:

Morgan/Thomas


Owned with:

Upperhand & Rodibaugh


Registration #:

141911005
After seeing Big Cat drive this boar in class, there wasn't a doubt in our minds we knew he was the one we have been waiting on. Not only is he a great boar to look at but his pedigree really excites us. His sire, Direct Hit, has been dominating in the showring the past year. Bandwagon is tall shouldered, level made, and as correct as you can make one. He is square at his knee and has a perfect hip and hock that can help the Chester breed. He has great bonework with a big forearm and reads true in his angles. If you want to make champions in the Chester White showring, then jump on the Bandwagon.
Sire:

Peppermint


Dam:

Spark Plug
"A truly exciting find" - J.R. Reid was right when he saw this guy. He was 2010 Missouri State Fair Champion Chester Boar. He is a breeding piece that we have been hunting for - sturctually design, foot and bone, great width off of both ends and fluid in his movement. There are exciting matings happening out of this boar. His first pig crop are the real thing!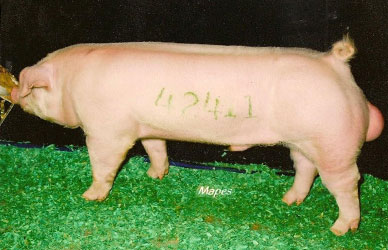 Sire:

Years Ahead


Dam:

Vendetta
Watch for the first crops of Wells Fargos to hit the circuit. This guy is tremendous to watch in motion - his feet and leg structure is impeccable while his width from the ground up is equally as good. We are truly excited on this crop of pigs! Call Al for details.
Sire:

Diesel


Dam:

Double Double
This boar is making his mark, just the lastest is the Grand Champion Chester Barrow American Royal 2009 and Grand Champion Chester Barrow North American Livestock Show 2009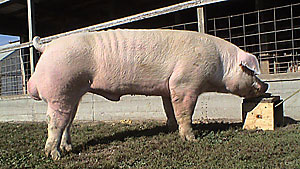 Sire:

Grand Drive Son


Dam:

Atlas
This boar has already proven himself in his first crop of pigs, not only does he have the length of body and bone but a great rib shape and design.
Sire:

Slim Shady


Dam:

Jump Start
In his first crop, Grand Drives have already hit: Reserve Grand Boar World Pork Expo - Sold to Gold Rush "Overdrive", Reserve Jr. Chester White Barrow World Pork Expo '05, Jr. Champion Gilt at the Jr. Nationals, & 4 Class Winners Grand Champion Boar & Gilt at the National Show in Springfield, IL
Sire:




Dam:
Reserve Grand Champion Boar - 2006 World Pork Expo
Sire:

Game Time


Dam:

Century
Sire:

RCA No Problem


Dam:

RCWO MS Integra No-Nonsense-Impact Son
Sire:

Grand Drive Son


Dam:

Atlas
Sire:




Dam:
Sire:




Dam:
Sire:

Impulse


Dam: