2018 AI Sires
Crinkle
Burn
Bullseye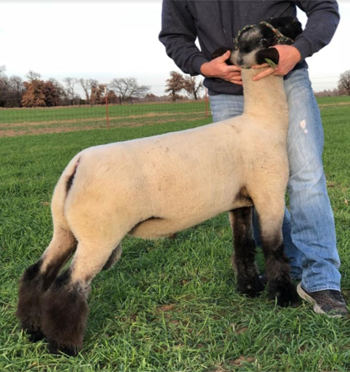 Sire:

Joint Custody


Dam:

Taz


Blood Work:

RRNN


Owned with:

Charmasson Club Lambs
Really popular set of twins out of Joint Custody, sold his twin brother to TX that has been successful in the TX Show Circuit taking honors of Champion or Reserve Champion 9x so far this year. The Joint Custody sons have proven to be generators and we are really looking forward to his progeny. Thank You to  Charmasson Club Lambs for their interest in this exciting Joint Custody son.
Photo Coming Soon!
Sire:

Ransom


Dam:

Taz


Blood Work:

RRNN


Owned with:

Tom Strickland
Hostile is out of a strong ewe family that goes back to one of our top donor ewes out of Blow Out. He combines a strong pedigree with the genetic power of Ransom. This combination of this pedigree is one to watch. Thank You to Tom Strickland for your continue support of our breeding program.
Sire:

Joint Custody


Dam:

"97"


Owned with:

Pruitt Family, TX
This one comes out of a strong bloodline that is built correctly from the ground up, continues with the right amount of muscularity with a cool look! We are excitied to get his first crop of babies on the ground this year. This one is impressive to watch on the move, Joint Custody just flat worked and here is another cross that will work. We are excited to work with the Pruitt Family, TX as they bought half interest in this exciting sire.
Sire:

Dirty Banana


Dam:

AOK


Blood Work:

RRNN


Bred by:

Johnson Club Lambs


Owned with:

Petzenhauser, Karr,
Zuber & Northern Starr
We are stoked on having an opportunity to bred to a t
rue changer
that can leave a footprint in the sheep industry for many years to come. Joint Custody has continued to impress clients on his sure power with a cool look and balance. Having his influence accross our ewe base is just the piece we were looking for. He comes out of a program that has sired as many National Champions and a breeding powerhouse at Brian Johnson's. Joint Custody comes from a great pedigree where his mother was the dam of Grand CA State Fair 2011 and grandmother of Grand CA State Fair 2012. Joint Custody's brothers sold as Lot #1 wether ($11,000) and Lot #2 ($4500) in 2015.
Sire:

Blow Out


Dam:

Ammo


Blood Work:

RRNN


Bred by:

Schminke
This sire is on
FIRE
and has had a tremendous first year! He puts a cool look with a deep twist in his babies that are very trendy in their pattern with great muscularity in their design. His offspring has the perfect underline and balance on the move. Very excited for another tremendous year of Mo-Jo's!
Sire:

Joint Custody


Dam:

Taz


Blood Work:

RRNN


Bred by:

Schminke (2016 Keeper)
If you had heard about this upcoming stud buck and saw him at the farm you know how unique he is in his build and design! Joint Custody just flat worked here at the farm and on our bloodlines, this son of his is truly unique in his skeleton build and touch. We used him extensively and really excited on his upcoming crop of babies.
Sire:

Joint Custody


Dam:

MGM


Blood Work:

RRNN


Bred by:

Schminke (2016 Keeper)
It was a tough decision to decide which one of these twin brothers to keep. His twin brother was successful on the show circuit.  They were easy to find in the pen with their impeccable build, bone and muscularity but were so good and athletic in their movement!